Chemical Peels
The Perfect Derma Peel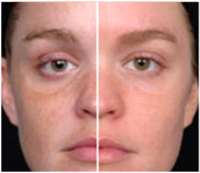 The Perfect Derma Peel is a medium depth medical grade peel which  targets a wide range of facial blemishes, including wrinkles, fine lines, rough skin, age spots, acne scars, melasma and hyperpigmentation. It shrinks the size of pores, erases many of the signs of sun exposure and aging, and improves the skin's clarity, texture and tone.
A series of 3 peels applied every 4-6 weeks provide optimum results.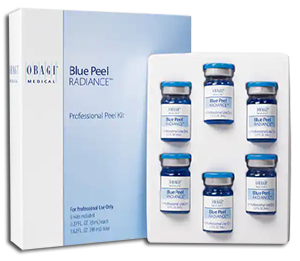 The solution features a blend of antioxidants and mild acids. Glutathione vanquishes free radicals and softens lines. Kojic acid lightens skin and stimulates production of collagen, the natural protein that gives skin strength, fullness and flexibility. TCA, phenol and retinoic acid fade areas of darkened pigment. Even as old cells fall away, the product moisturizes, soothes and softens the skin.
The treatment experience is convenient, requiring a few days of your time during which you may want to hide your peeling from friends and colleagues.
The peel application will take about 10 minutes, and you will be asked to leave the application on for a minimum of six hours.  The skin begins peeling two to three days after your short office visit. With peeling comes redness, but the only sensation you are likely to feel is a slight tingling for the first 15 minutes when the solution is applied. Within a week, your smooth, revitalized complexion is ready to present to the world.
Blue Peel RADIANCE®
Obagi provides this quick superficial salicylic acid-based facial chemical peel that exfoliates and helps improve overall complexion, and provides firmer, smoother, brighter-looking skin after just 1 use.   A series of 4 to 6 peels provides best overall results.
Benefits of Blue Peel RADIANCE
Blue Peel RADIANCE is a fast and effective salicylic acid–based peel that provides instant results for most skin types.
Provides instant radiance — tighter, smoother, brighter-looking skin after just one use
Post-peel outcomes can be improved for a range of skin concerns and procedures, including photodamage, skin resurfacing, and overall improvement in texture and tone
Peels may be beneficial for darker-skinned patients with pigmentary changes
Superficial exfoliation, with little to no downtime
A series of 4 to 6 peels provides best overall results
Active Ingredient: 20% Salicylic Acid
Sue has the competency and experience to help you look your very best!
Dermaplaning Facial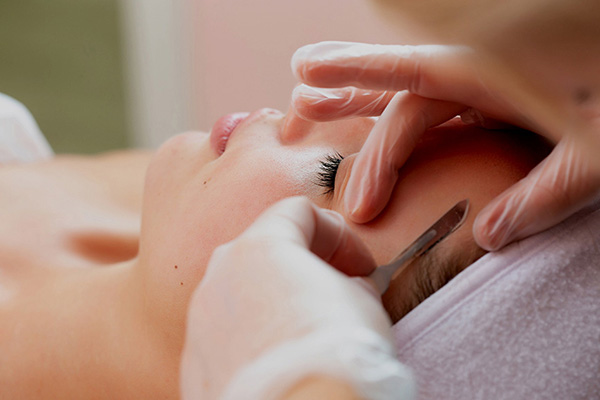 Removes dead skin cells

Looking for a facial treatment that will help you get rid of dead skin cells, reduce fine lines and wrinkles, and even help get rid of unwanted facial hair?
Dermaplaning exfoliates the epidermis by using a surgical blade to remove the top layer of dead skin cells and built up debris. The procedure reveals a smooth surface and healthy glow. In addition to reviving the skin, dermaplaning removes vellus hair (better known as peach fuzz) from the face. The removal of dead skin cells and facial hair creates the perfect canvas for skin care and makeup.
Dermaplaning can be done on any skin type, including those with sensitive skin. Unlike microdermabrasion, which causes pulling, pressure and inflammation on the skin, dermaplaning is a gentler procedure. Exfoliation helps our skins natural regeneration process and is an important addition to any anti-aging beauty routine. Dermaplaning helps to refine fine lines, wrinkles, mild acne scars, dry skin and more.