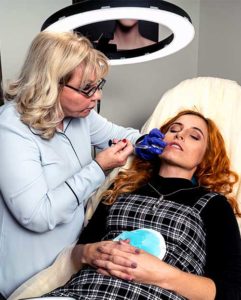 Sue's Approach to Injectables
The facial aging process varies from person to person.  The main causes are changes in bone density, loss or displacement of fat and the break down of collagen and elastin.
Taking a preventative approach that incudes minimally invasive facial cosmetic treatments is a way to lessen the signs of aging and avoid or delay surgery.  Injectables are a great way to improve the signs of aging and/or enhance your natural features.
https://tryaboutface.com/wp-content/uploads/2021/02/Logosticky1.png
Overall, fantastic! I'd recommend them to anyone looking for a creative,
thoughtful, and professional team."
Kristi Bruno
Social Media Specialist
American College of Chest Physicians

Why About Face Aesthetics & Skincare, LLC  of Greeneville & Norton
Sue Cressel, NP, and Owner of About Face Aesthetics & Skincare, LLC has 15 years of injecting experience.  Highly skilled, Sue listens to her clients to fully understand their needs and lifestyle and determines the best way to treat the signs of aging (facial lines and volume loss).  Usually this will be with a combination of injectable solutions such as Botox Cosmetic®, Xeomin®, Dysport® and a family of dermal fillers
Injectables are a great way to improve the signs of aging and/or enhance your natural features.
The most common neurotoxins include Botox, Dysport and Xeomin, all of which are frequently used at About Face.   These types of injectables are used to block targeted nerves from activating the facial muscles. Over time, repeated contractions of facial muscles can contribute to the formation of wrinkles and lines in the forehead, around the eyes, on the nose and neck, and near the mouth and chin.  Botox, Dysport and Xeomin temporarily relax the muscles causing the wrinkling leaving a smoother, refreshed appearance.
Beyond cosmetic purposes, we also sometimes treat migraines and hyperhidrosis (excessive sweating) with these injectables.
Hyaluronic acid helps to keep the skin hydrated, supple, and youthful looking.  Aging and sun damage reduce the amount of natural hyaluronic acid in the skin, and once depleted, there is volume loss resulting in sagging and folds.   Injectable dermal fillers tailored to a specific application and area can restore this lost volume and provide a more youthful appearance.
Sometimes there is not a problem area but a desired enhancement.  This is particularly true in the lips.  Your injector should have a level of skill and experience so that the client receives full, evenly enhanced lips that reflect symmetry.  Our hyaluronic dermal filler procedures include Radiesse®, Juvéderm, Restylane® and Belotero Balance® injectables, which offer a variety of different attributes that can accommodate your specific skin needs and desired  outcome.
It's more important than ever when receiving these types of treatments to have an experienced injector.  Sue Cressel has done many of these procedures hundreds of times.